---
Westerns Championship 2017 Teams Announced
Netball Alberta Westerns Provincial U16 & U18 Squads 2017
Thank you to all players for attending trials on Sep 20.
These are the players who have been selected to represent Alberta against British Columbia at the Western Championship held in Burnaby BC, Nov 17-19.
U18

Grace Marshall

Samantha Zering

Abigail Francis

Carly Cheung

Katherine Bentley

Hannah Magotiaux

Amanda Neal

Marianna Castrillon

Karen Ratliffe

U16

Maddison Lewin-Howard

Kirianna Park

Maya Cheung

Jordan Lewin-Howard

Katie Samborski

Hannah Willis

Alia Matchett

Abigail Ganden

Tierenney Millar

Non-traveling reserves:

Melissa Neal

Kathryn Douglas

Mariah Matchett
Coach: Sammantha Elsom
​Asst Coach: Michelle Le
Manager: Ev Francis
---
2017 AGM and Fall Senior Tournament
The Netball Alberta 2017 AGM will be held in the Sports Hall gym at Southland Leisure Centre on November 25 at 4:00 p,m.
The 2017 Fall Senior Tournament will run Friday Nov. 24 (6:00 - 10: pm) and Saturday Nov. 25 (12:45 - 10:00 pm).
Your team will receive the invitation by November 1, 2017. Please RSVP by November 10, 2017 to ensure organizers have enough time to create the schedule.
---
Senior B Training Fall 2017
Netball Alberta has hired a new part time school clinician who is available for some coaching support. She will be running a Senior B Drop-In Training Session on Wednesday nights at Vivo for the next 4 weeks.
Venue: Vivo (Country Hills NE)

Cost: $5:00 drop-in per week ($20 total for 4 weeks) - to be paid by cash in-person on the night.
Cheques for $20 will be accepted if you are paying for all 4 weeks at one-time (cheques must be submitted first night).
Open to all Senior B Ladies. Limited spaces are available (20 spots per week). Registration on a first come first served basis. You can sign up for just 1 week, or for all 4 weeks. It is highly encouraged that players from any team playing at the Vivo league game that week sign-up to take advantage of this Training Session.
If you have any questions, please email president@netballalberta.com
---
Senior A Training Fall 2017
8 Week Strength and Conditioning Fitness Program
Date: Thursdays, Oct 19 - Dec 7
Time: 8:00-9:30 pm
Cost: $96.00 (subsidized by Netball Alberta)
Venue: Renegade Training Company (45th Ave SE)
Trainers: Aleasha Bremner & Jeff Hughes
Open to all Senior A Ladies aged 18+. Limited spaces are available (12 spots). Registration on a first come first served basis. If demand exceeds more than 12, priority will be given to Senior A ladies interested in trialing for the 2018 Alberta Provincial Team for the National Tournament (to be held in BC, May 2018).
SIGN-UP FORM: https://goo.gl/forms/XmSuByXDi2Z3wCxm2
Questions? Email: president@netballalberta.com
---
Rule Clinics Nov 22, 29 & Dec 6 & 13
Dianne Le, our Umpiring Director, will be hosting four Rule Clinics:
Dates: Wednesdays, November 22, 29 & December 6, 13
Time: 8:30-9:20 pm
Location: Vivo (Google Map here)
Cost: FREE!
The purpose of these clinics is to brush up on your knowledge and ask any questions you may have about the rules of netball. We expect the teams that are playing at Vivo that week will stay for the session, and invite anyone else who has any interest in improving their knowledge of the rules to attend.
As many of you know, we have a shortage of umpires in our league this season. We have a reduced number of umpires available for league; and only two umpires are Senior B players.
Many of our umpires also sit on the NA Board and coach the juniors, which means they already put in lots of hours on behalf of our organization and are at the gym from 5 or 6 pm to 10 pm every Sunday, as well as mid week coaching and ongoing administrative duties.
It is imperative that we have some of our adult Senior B and Senior A players volunteer to learn how to umpire. We hope these rules sessions will make that idea less intimidating and that we have more people stepping up to umpire.
---
Sportsmanship in league games
As a new season commences, Netball Alberta would like to remind players that one of our greatest values is community.
Sportsmanship is the fair and generous treatment of others and a vital key to our community being a positive and inclusive place for people to play our sport. Positive sportsmanship is expected of everyone who walks on a netball court. To support the expectations Netball Alberta has of our players, please review the Code of Conduct.
---
2017/2018 Sub Rule Changes
Due to lower registration numbers, we have decided to change the Substitution Rules slightly for this year. All players, including casual players, must be registered in SI Play. Casual players will be contacted by a division coordinator to be assessed, if necessary, and added to the sub list.
A league player can sub in a maximum of four games between September and December, and a maximum of four games between January and March. If any league player subs more than the maximum allowed games, the team they subbed for will result in a default for that game and the player will not be permitted to play on their regular team for the remainder of the season.
A casual player can sub in up to three games between September and December, and a maximum of three games between January and March, for a drop in fee of $10 per game. If they would like to play in more games than that, they must pay a pro-rated registration fee for the remainder of the year.
Senior B may sub for Senior A but not Senior A for Senior B
It is the responsibility of anyone arranging a sub to ask the sub if they are eligible and not exceeded the maximum sub rules. It is the responsibility of players to keep track of games and ensure they do not exceed the maximum games.
These sub rules are intended to make for a fair playing environment, and ensure that the same players are not constantly called upon to sub for a majority of games each season.
---
Great article about Netball Positions from NetballSquad.co.uk
You can see the original article HERE:
Goal Shooter
As GS, your job is to be the main goal scorer. Usually the taller of the two shooters, you should stay in the circle and only run out as a last option. Great GSs are able to get free of defenders in tight spaces, often needing to lunge or jump to catch the ball one-handed.
Great if:
you're the tallest one on the team
you're cool with getting up close and personal with the GK
you can stay calm and keep shooting under pressure
Basic skills:
shooting close to the net
getting free from the GK to receive the ball
jumping for potential rebounds after you or the GA have taken a shot
Ways to improve:
Read the Guardian's excellent GS position guide and have a look at this video of Jo Harten demonstrating different shooting techniques.
Goal Attack
The GA is usually one of the playmakers on court, being able to shoot and bring the ball through centre court. GAs all play very differently, but the best ones are great at shaking off their defender and making clever, well-timed drives into the circle.
Great if:
you can shoot from further away
you're athletic enough to dodge and outrun a defender
you're good at getting free at the centre pass
Basic skills:
shooting
receiving the centre pass
jumping for rebounds after you or the GS have taken a shot
Ways to improve:
Have a look at this great article by Sky Sports and Pam Cookey on how to play Goal Attack (make sure you watch the video with Pam and Tamsin Greenway) or this video about finding space.
Wing Attack
Great Wing Attacks are creative and have great footwork, allowing them to shake off a defender. They usually have some of the best passing skills of the team and are able to put accurate and varied feeds into the circle.
Great if:
you're great at passing
you're quick enough to get free of a defender
you have good awareness, creativity and timing
Basic skills:
receiving the centre pass
putting strong passes into the shooting circle
getting free of the WD
Ways to improve:
Read this excellent Guardian article on how to be a great WA and watch this video on feeding the circle.
Centre
The C is the engine of the team and carries the ball between both ends of the court. They have to have great stamina and skill in attack and defence, as well as having great spatial awareness and timing so as not to congest any part of the court.
Great if:
you're a good long-distance runner
you like attacking and defending
you're great at throwing and catching on the run
Basic skills:
always being available for the ball
taking the centre pass
working around the circle edge with the WA
Ways to improve:
Build up your cardio and watch this C position guide.
Wing Defence
The WD is the centre court's main defender. They help the two circle defenders pressure the other team's attack as well as being the main route to link the ball from the defensive third into attack if there's a turnover. Great WDs are also good at reading the other team's passes and going for flying intercepts when there's an opportunity.
Great if:
you're good at intercepting the ball
you like playing centre court and defence
Basic skills:
defending the WA at the centre pass
defending the WA on the edge of the circle
receiving back line passes from the GK
Ways to improve:
Watch this video about blocking players on the move or watch this WD position guide.
Goal Defence
The Goal Defence is one half of the circle defence team and needs to be able to defend in the mid-court and in the circle. Like the GA, they need to be athletic since they're a key link between the defence and attack in the event of a turnover.
Great if:
you can keep up with a speedy goal attack and jump for intercepts
you like playing in the centre court and in the circle
Basic skills:
defending the GA in mid-court
pressuring the GA when they shoot by leaning towards the ball from three feet away
linking the ball from defence to attack when there's a turnover
Ways to improve
Have a look at this Goal Defence position guide, Julie Corletto's video on man marking and this guide to the basics of defence.
Goal Keeper
The Goal Keeper is the last line of defence. They're usually matched up against the opposition's best (and tallest) shooter and need to be able to apply physical and mental pressure in a small space. The GK should also shout instructions to the GD and WD, since they have a clear view of the play down the court.
Great if:
you're mentally tough enough to compete one-on-one with the GS in a small space
you're good at pressuring passes and shots
Basic skills:
pressuring the GS when they shoot by leaning towards the ball from three feet away
jumping or lunging for intercepts in the circle
never leaving the GS undefended (resisting the urge to run out of the circle)
Ways to improve
Watch this video on working around the GS, this guide to defending the shot or these clips of total #defencegoals.
---
Fast and Female Summit October 29, 2017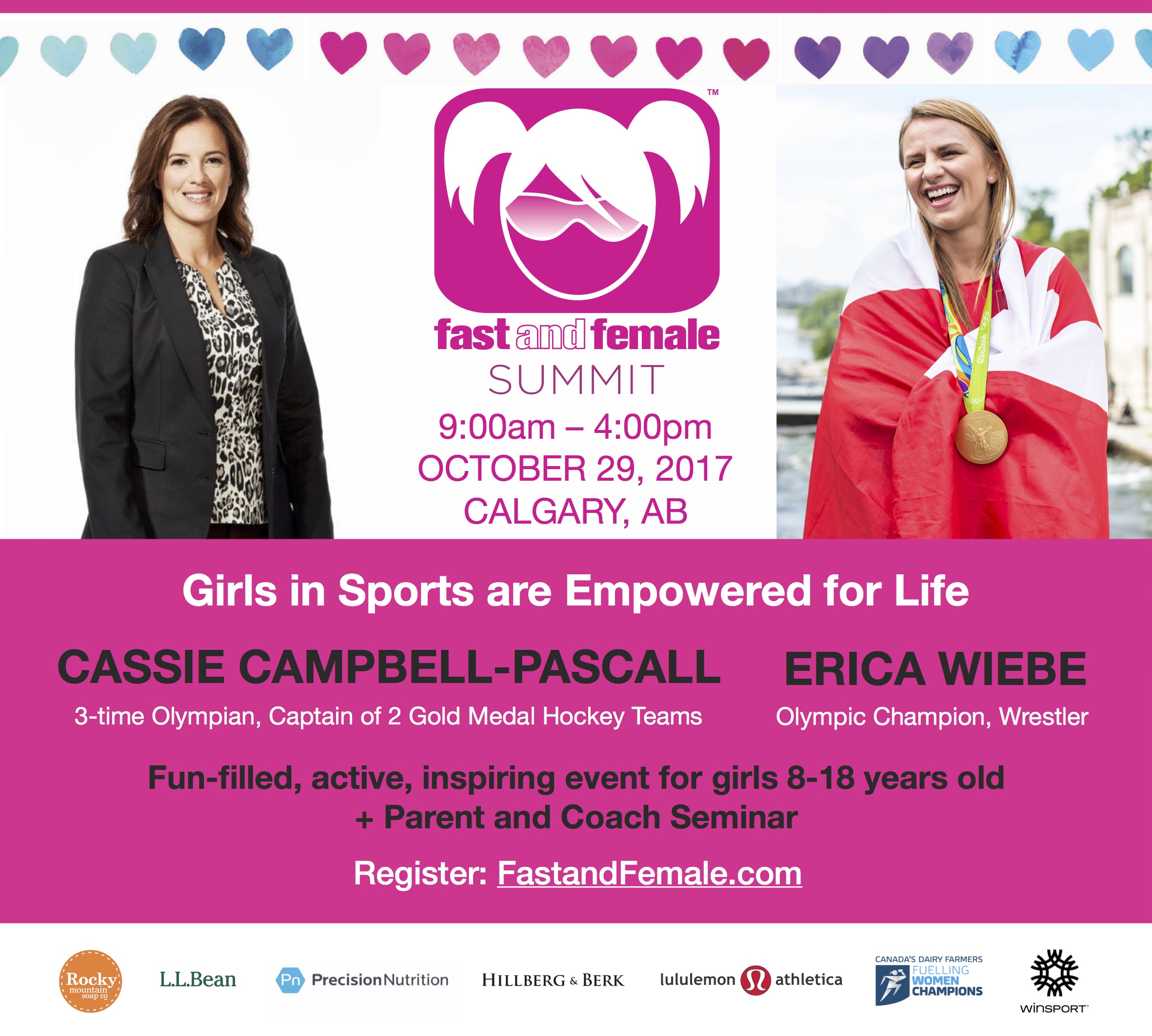 ---
Email: contact@netballalberta.com
Web: www.netballalberta.com
Facebook: Join our group
Twitter: @NetballAlberta
Netball Alberta is proudly supported by: